Artist Profile
José Paulo reinventing himself in times of pandemic.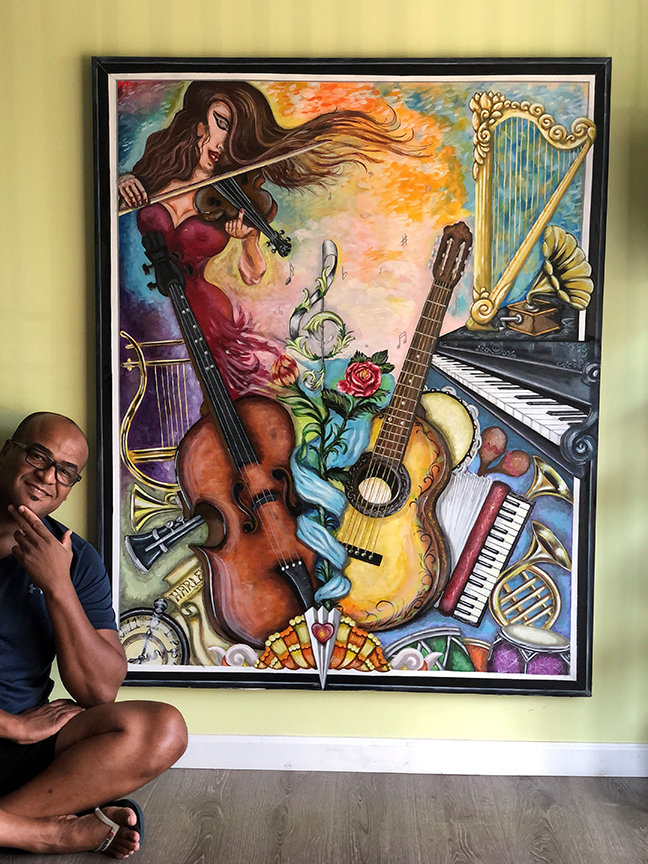 From singer, songwriter, musician to the world of Fine Arts.
Jose Paulo took the world by surprise with his diverse artwork.
Painting and art are as old as man himself. One of the first artistic and cultural ways of manifesting the human being.
In March 2020, with the arrival of the pandemic that ravaged and affected the whole world, and following the restrictions and recommendations of the state of Connecticut, Jose Paulo, who is a singer, songwriter, musician had his entire musical agenda, concerts and events canceled for your safety and his.
Being at home, he finds himself with his hands tied, without work and without much to do. He was filled with tensions and mental stress of what was happening to the world. One day when shopping at a local store with his wife they came across a section of materials for artists, paints, brushes, canvas and much more. His wife remembered some artwork completed by Jose Paulo, which decorates his parents' home in Brazil. She then suggested that he buy some artists material to start creating artwork for their home and that is what happened. The creation of the artwork helps him relieve the tension and mental stress, of such uncertain times.
The result was surprising! After finishing some of his canvas artwork, he published them on social media without any commitment, just for fun, to get people's feedback. The results of the feedback were so positive and admired by many that people became customers and wanted to buy the art pieces.
From then on he started to focus on creating new artwork with different images, making this another great passion besides music.
He returned to something he learned at the age of 13th, where he studied for 6 months, at the School of Plastic Arts in the city of Rio de Janeiro Brazil, his homeland.
He had stopped, since his arrival in America, where he had spent most of his time on jobs for his livelihood and on musical projects.
Jose Paulo continues to study and improve his artistic techniques to better meet an ever increasing demand from customers and admirers.
Jose Paulo does not categorize himself in any style or artistic movement, he considers himself a student, an apprentice, an artist of the people. He paints according to his heart, inspiration and to the taste of his clients. He now divides his time between music and the fine arts.
He dreams of being able to exhibit his works in major galleries around the world, where he has already received an invitation to exhibit his works in Milan, Greece and Spain, being part of the list of renowned international artists.
Jose Paulo thanks God for this new chapter of his life. He also thanks his wife AnaBela, his family and especially all his friends and supporters.
Jose Paulo hopes you enjoy his artwork as much as he loves creating it for you.
Sobre o Artista
José Paulo reinventando-se em tempos de pandemia.
Jose Paulo FineArts ou artista plástico.
De cantor, compositor e músico para o mundo das Belas artes.
A pintura e a arte são tão antigas quanto o próprio homem. Uma das primeiras formas artísticas e culturais de se manifestar do ser humano.
Com a chegada da pandemia que assolou e afetou todo o mundo, e seguindo as restrições e recomendações do estado de Connecticut, em março de 2020,conforme orientação da CDG o, Jose Paulo que é musico , cantor e compositor teve toda a sua agenda musical de shows e eventos cancelada por sua segurança e a dos demais.
Estando em casa se vendo de mãos atadas, sem trabalho e sem muito o que fazer, não podendo cumprir com seus compromissos junto aos seus credores; sua esposa em um supermercado local, no momento em que faziam compras, se depararam em uma seção de materiais de pinturas artísticas, e lembrou-se de alguns trabalhos artísticos feitos por Jose Paulo, que decoram a casa de seus pais no Brasil. Sugeriu-o então, que comprasse algumas telas, pinceis e tinta para fazer alguns trabalhos artísticos para casa, e assim passar o tempo aliviando as tenções e o estresse mental, de tempos tão incertos.
O resultado foi surpreendente! Após o termino de suas obras, fez a publicação em algumas redes sociais sem nenhum compromisso, apenas por diversão e ver o que as pessoas achavam.
Vendo suas obras nas redes, alguns de seus amigos e fãs, admiraram seu trabalho e compraram-lhe algumas de suas telas. Dai em diante passou a reproduzir novas imagens, fazendo desta mais uma grande paixão além da musica.
Voltou a fazer seus trabalhos de artes visuais, no qual praticara desde a idade de 13 anos, onde estudara por 6 meses, na escola de Artes Plásticas na cidade Rio de Janeiro Brasil, sua terra natal.
Havia parado, desde a chegada a América, onde dedicara a maioria de seu tempo em trabalhos para sua subsistência e em projetos musicais.
Jose Paulo continua estudando e aprimorando suas técnicas artística para melhor atender uma demanda cada vez mais crescente de clientes e admiradores.
Jose Paulo não se categoriza dentro de nenhum estilo, ou movimento artístico, se considera um estudante, um aprendiz, um artista do povo. Pinta conforme o seu coração, inspiração e a gosto de seus clientes. Divide seu tempo agora entre a musica e as artes plásticas.
Sonha em poder expor suas obras em grandes galerias mundo a fora, onde já recebeu convite para expor suas obras em Milão, Grécia e Espanha, fazendo parte da lista dos renomados pintores internacionais.
*Jose Paulo agradece a esta nova fase de sua vida a Deus, a sua esposa AnaBela, sua família e principalmente a todos os seus amigos e apoiadores.
José Paulo espera que vocês apreciem sua obra, da mesma forma que ele aprecia cria-las para vocês!